Year

2018

Duration

5'

Categories

Instrumentation

fl,vla,cello

Dedication

Eight Strings and a Whistle

Commission

Eight Strings and a Whistle

Premiere

March, 8th 2018
Bronx Community College
Eight Strings & a Whistle

Publisher

Ocean Sound
Program Notes

Written for Eight Strings and a Whistle, Third Eye represents an inward journey towards self-awakening, awareness, enlightenment and greater spirituality.

The composition begins with the flute playing a single, long F# (to me, one of the more mystical notes on the flute). The opening rapid solo which flows quickly from the first long note represents a brief ceremonial chant- a willingness to open and seek one's inner truth to begin such an odyssey.

The three instruments share similar energy- the viola and cello vibrating wood via bowed or plucked strings, the flute using life breath to vibrate a silver tube.

Throughout the piece, longer stretches of uneven time signatures and differing lengths of sustained notes enable listeners to experience a feeling of being in the moment without measuring time as we do in the physical plane.

The music ends much like the opening with a single suspended flute note, this time with a high E. A seventh above the opening tone, the higher E symbolizes the seventh chakra (the crown chakra) which relates to pure consciousness.
Ordering Information

For pricing info and to order this work, please fill out the form below: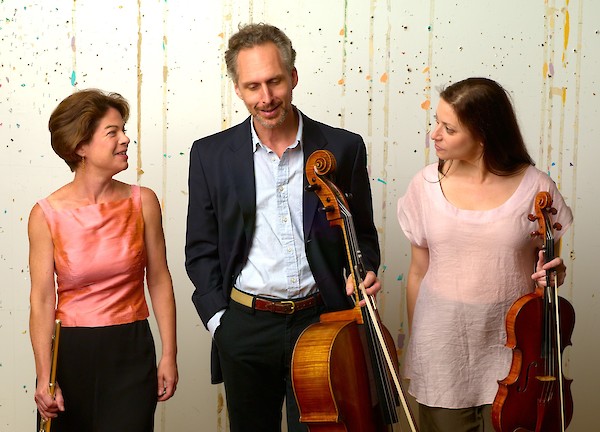 Eight Strings and a Whistle- Suzanne Gilchrest, flute; Ina Litera, violin; Matt Goeke, cello
Festival de La Habana, , Habana, , , Cuba