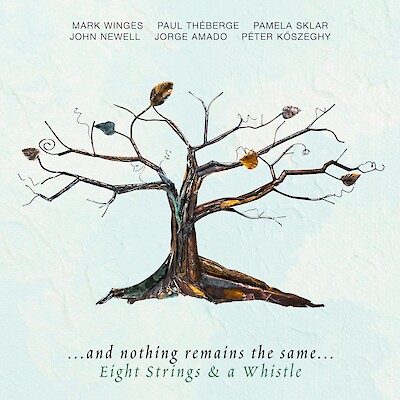 View Two Journeys in Westchester County
Greenburgh Public Library, 300 Tarrytown Rd GPS: use 300 East Main St, Elmsford, NY, 10523,
Read More...
Written for Eight Strings and a Whistle, Third Eye and the Inward Journey (Two Journeys) represents separate but connected journeys towards self-awakening, awareness, enlightenment and greater spirituality.
The first Journey, Third Eye, begins with a solo flute line; a long, mid-range F# (one of the more mystical-sounding flute tones, to me). Quickly flowing from that F# is a rapid group of six* repeating notes. This solo represents a brief ceremonial calling- willingness -to open and seek one's inner truth. Thus, the odyssey can begin.
The three instruments share similar energy- the viola and cello vibrating wood via bowed or plucked strings, the flute using life breath to vibrate a silver tube.
Throughout the piece, longer stretches of uneven time signatures and differing lengths of sustained notes enable listeners to experience a feeling of being in the moment without measuring time as we do in the physical plane.
Third Eye ends much like the opening with a single suspended flute note, but now with a high E. A seventh above the opening tone, the higher E symbolizes the seventh chakra (the crown chakra) which relates to pure consciousness.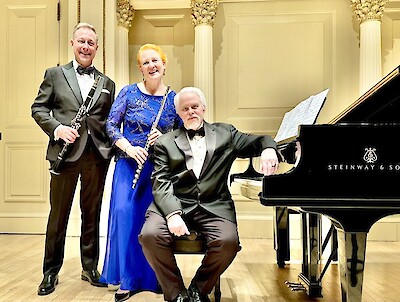 View Premiere of Down the Rabbit Hole
Read More...
My new work Down the Rabbit Hole will be co-featured by the award-winning trio Palisades Virtuosi. Commissioned by the trio and scored for flute/piccolo, bass clarinet and piano, this music will be part of Palisades Virtuosi's 21st Anniversary Celebration Performance and 100th commission! This program co-features four premieres.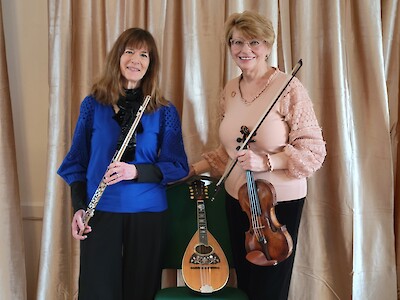 View Seasonal Music for the Holidays
St Paul's Church National Historic Site, 897 S Columbus Ave, Mount Vernon, NY, 10550
Joyce Balint, violin and mandolin. Pamela Sklar, flutes.
Read More...
This performance co-features seasonal music, an original flute solo, music by JS Bach and other meaningful music from around the world arranged by Joyce and Pam.
A peaceful and fun program. it lasts for one-hour. Free and open to the public, free parking in front as well as across the street in the Defoe lot.