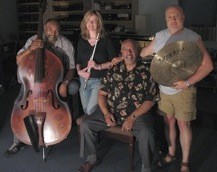 Sachem Trio co-features jazz standards with focus on the blues, and includes Pamela Sklar's A Tune For America- Jazz-Native American inspired music for Flute, Bass & Drums, as well as ballads, bossa nova & other jazz-influenced music. Sachem is Pamela Sklar, flute with Christopher Dean Sullivan, bass; and drummer Bob Meyer.
Sachem
is also part of the
Earl Brown Quartet
with Mr. Brown on piano. Quartet music features jazz.
Booking: New York area.