A Native American-Jazz Tribute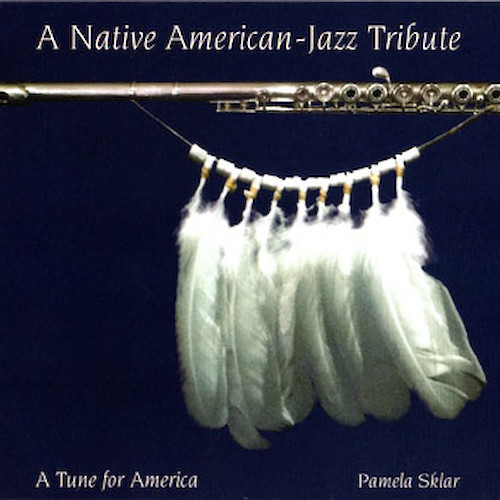 Year

2012

Artist

Pamela Sklar - flute, piccolo, alto flute, bass flute, composer.
William Anderson - guitar
Kurt Coble & Linda Finegan - violin
Leo Grinhauz, Richard Locker & Jay Shulman - cello
Sarah Davol - English horn
Steven Hartman - clarinet
John Arrucci - zabumba, percussion and toms
Christopher Dean Sullivan - bass
Bob Meyer - drums

Label

MSR Classics

Catalogue #

MS1484
Links
Program Notes

On this recording, Pamela Sklar plays flute, alto flute, bass flute and piccolo, highlighting her ability to compose for and play different genres, styles & techniques. Joined by and co-featured with talented colleagues & friends playing English horn, percussion, guitar, cello, violin, bass and drums, Sklar's versatile flute playing, sounds, moods, improvisations and mixed styles shed light on the spiritual, meditative and evocative Native American-Jazz styles to which she pays tribute.

A classically trained musician, Sklar first developed an interest in Native Americans by watching Hollywood movies as a child; their costumes, hair and overall style captivated her. Later on, she gained a great respect and passion for their cultures, past and present, by reading stories, viewing documentaries and listening to their different flutes. In this way, Sklar became inspired to compose, play, perform and record this, her first original CD.

Born in New York to a family of professional musicians (a first cousin was famed violinist Michael Rabin), Sklar began playing the flute at age five and later studied with New York Philharmonic principal flutists John Wummer and Julius Baker, and other great chamber music artists, including Karl Kraber and Samuel Baron.

As a studio musician, Sklar has recorded with numerous notable artists, including Tony Bennett on his Grammy award-winning Duets I and II recordings), with Lady Gaga (Cheek to Cheek with Tony Bennett), Paul Simon, Harry Connick, Jr. and Natalie Cole, among others. Other performances include TV appearances with tenor Andrea Bocelli, the Grammy Awards for two consecutive seasons (Gil Shaham, Aretha Franklin), and solo/principal flute with Dave Brubeck for several seasons. With French crossover pianist/composer Claude Bolling, Sklar performed internationally for many seasons as soloist, playing Bolling's music written for Jean-Pierre Rampal. She also appeared with jazz greats Hubert Laws and guitarists Jack Wilkins and Larry Coryell. Sklar played in a cameo role on CBS's As the World Turns; in a duet with Joel Grey for the annual Songwriters Hall of Fame Awards and with Alan Hovhaness at New York's Metropolitam Museum of Art in a program of the late composer's music.

A co-founder and director of her own trio, Sklar performed original arrangements of music by Leonard Bernstein and premiered many new works, some of which are currently considered some of the standard wind trio repertoire. Sklar's own compositions, also featured on Silver Pharaoh, are inspired by the ancient Egyptian Book of the Dead; her Spell 166 is included in Lincoln Center's Library for the Performing Arts in their special collection.
Reviews
Please note: Reviews are from the album A Native American-Jazz Tribute. This album includes Eventually - the trio for flute, clarinet and cello.

"Creative...superb"
– Flute Talk

"...the listener is transformed to another time and place. ...evocative... hauntingly beautiful... full of colors... excellent. Listeners are treated to a true melting pot of styles including 20th century flute techniques, jazz form, improvisation and Native American melodies and aesthetics… Sklar plays with a singing tone throughout and shows sensitivity and versatility with each combination of instruments."
– National Flute Association: Flutist Quarterly

"Pamela Sklar, a God-gifted musician... smooth and soothing to the soul... a collaborator credited for performing with many artists and contributing her spectacular soundtracks to various films, jingles. A different and unique style of music... sultry... peaceful. Her rare sound is a story teller. Astounding... awesome talent."
– Smooth Jazz Magazine

"...very listenable music that straddles world music and jazz. Flutist Pamela Sklar has produced this album which puts together Native American musical styles and jazz that have engaged her imagination and soul. She improvises on various sorts of flutes. I especially liked Wood Spirit, for flute, violin and cello. A portion of the proceeds goes to a charity which serves over 75 reservations around the US"
– John Henry, Audiophile Audition