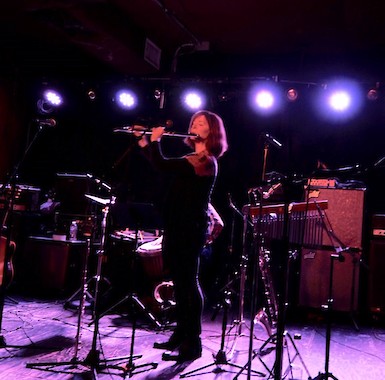 Described as "Sklar, a master of control and dynamics, conjured up delicious imagery...rich, pure sound." by The Boston Globe, Pamela Sklar is a sought-after flutist for her beautiful, pure tone and expressive, versatile musicianship. For more than three decades she performed as a studio musician on albums, including three Grammy Award–winning recordings for well-known artists including Tony Bennett (Duets I & II) and Lady Gaga (Cheek to Cheek), also for Natalie Cole (two albums), Paul Simon (So Beautiful or So What) and Aretha Franklin with whom she performed as principal flute for the Grammy Awards. With the orchestra for Tony Bennett and Lady Gaga, she performed for PBS's Live from Lincoln Center and was requested later by John Pizzarelli to play alto flute for his Midnight McCartney recording which was suggested by Sir Paul McCartney.
For eleven seasons as flute soloist with celebrated French crossover composer and jazz pianist Claude Bolling, Pamela's acclaimed performances included tours throughout the USA, Canada, Mexico, Paris and Morocco. Concerts included Monsieur Bolling's Suite for Flute and Jazz-Piano Trio (written for and recorded with Jean-Pierre Rampal) which was at the top of the Billboard charts for ten years. Co-featured artists with whom she appeared on tour included Hubert Laws, Larry Coryell and Jack Wilkins. Other international & American tours included Pamela playing flute and piccolo through Japan and the USA for five seasons with the New York Ragtime Orchestra ensemble, featuring music of the early 1900's.
Pam's appearances also included principal/solo flute performances with legendary jazz pianist and composer Dave Brubeck for many seasons in New York and regionally with his chamber orchestra-choral pageant La Fiesta de la Posata, repeated appearances in ensembles with tenor Andrea Bocelli for national television, and concerts with composer Alan Hovhaness including the Metropolitan Museum of Art where she was principal flute in a program of the late composer's works. Additional performance highlights include the Grammy Awards with violinist Gil Shaham; the JVC Jazz Festival Orchestra for Wayne Shorter at Carnegie Hall; the first televised Annual Songwriters' Hall of Fame Awards playing piccolo for Joel Grey, and the flute solo on Octavarium with Dream Theater for their tour Score at Radio City Music Hall.
Additional performance highlights included many solo/ensemble/orchestral performances nationally at clubs and universities, regional festivals and major New York venues, including with other well-known artrists at Carnegie Hall, Lincoln Center's halls, Madison Square Garden, St. Patrick's Cathedral, the United Nations, the Museum of Modern Art, the Whitney Museum, Bethel Woods, Caramoor, and Broadway.
A 2020 Arts Initiative Award Winner from ArtsWestchester for her original three-part project Words into Music, Pam's project can be heard on an informal outdoor virtual/recorded premiere, and was performed live in November, 2021, in Mount Vernon, NY. Composed in 2020, Words into Music was inspired by her conversations with more than forty individuals from Mount Vernon, NY, who shared stories about family situations, community issues, personal struggles and hopes & dreams. Their shared soulful emotions gave Pam powerful material to create with musically. Performing on Native American flute, flute and bass flute, Pam was joined by oboe/English horn players (respectively) Jim Ferraiuolo and John Frisch, and clarinet/bass clarinetist Enid Blount Press. Pam is also a recent winner of ArtsWestchester's 2022 Arts Alive Award for her new project Words into Music, Part 2.
Upcoming or recent recordings include the 2022 release of Jazzical Komitas: Passion of Fire by Joel Martin, on which Pam can be heard playing flute and alto flute. Additional recording credits include the soundtrack for the American Museum of Natural History's Haydn Planetarium's featured Dark Universe Space Show. Other film credits include Shaft 2000, Working Girl, Anastasia, TV series such as Blue Bloods, Ugly Betty and national & internationally popular cable TV shows which include her flute improvisations. Pam's studio work has also included broadcasts/jingles/other recordings for composers and arrangers including Grammy Award winners Don Sebesky and Jorge Calandrelli, Emmy Award winner Robert Miller and renowned producer Phil Ramone.
A collaborative musician, Pamela was flutist and co-director with Joseph Rutkowski of the nationally recognized and acclaimed ensemble L'Aréma for many years. Their ensemble co-featured original arrangements in conjunction with Leonard Bernstein; worked closely with Pulitzer Prize-winning composer Karel Husa and premiered numerous new works written for or in conjunction with L'Aréma by American composers including Jack Gottlieb and David Deason.
Current exciting musical collaborations include Angels in the Chamber, a prog-rock, classical, pop and improvisational band co-featuring originals and group arrangements, as well as Intuition Quartet which co-features vocals and instrumentals of originals, blues, R&B, bossa nova and other styles. A member of the duo 2Flutes with Laura Falzon, Pam performs original music and other new works for various flutes (piccolo to bass flute and Native American flute) by New York-area composers. The winner of two grant awards from New York Women Composers for performances and their debut recording of New York Tapestries, 2Flutes' album release event was presented recently.
A diverse artist, Pam presents Flute Meditation Programs in various settings including schools, studios and homes. Her programs are tailored to varying groups, ages, and/or individuals as background music for meditation and yoga sessions. With her various flutes, Pam also leads programs that soothe her listeners by giving them tools to relax, breathe more slowly and dissipate stress. Pamela can also be heard playing different flutes for Loving Meditations.
With her private students and/or colleagues in Pam's Pipers, she performs for children/teens, adults and seniors, giving back to her community by presenting classical, jazz &/or ethnic music in shelters, hospitals, senior centers, homes and other venues. She also gives solo educational performance presentations for pre-schoolers at Head Start /Center for Learning in Westchester County.
Born in New York City to a family of professional musicians -a first cousin was famed violinist Michael Rabin- Pamela first began playing the flute at age five, and later studied and graduated from the Manhattan School of Music Pre-College Division. She received her Bachelor of Music Degree with Honors in performance from the Mannes College of Music (aka Mannes School of Music/The New School) and studied with New York Philharmonic principals John Wummer and Julius Baker; Eleanor Lawrence, Samuel Baron and Karl Kraber. Pam also studied and performed in master classes with the esteemed mentor and flutist Marcel Moyse, formerly the last living legacy of the French Flute School. Pam lives in Westchester County, NY, with her husband Michael.