Composer and Flutist
Pamela Sklar
"Pamela Sklar's intricately lyrical The Chains of Love set to Cervantes' poem Las Cadenas de Amor, brought on flutes (Falzon and Sklar) to accompany...and open the superb second half."
- John Osburn, Osburnt.com
Read Bio
Pamela Sklar
Ensembles
Pamela is a member of ensembles playing classical, originals, blues, pop, rock and improvisational music .
Ensembles Listing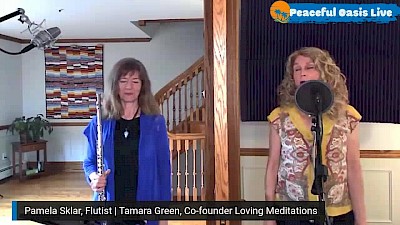 View Peaceful Oasis Live Meditation Concert
Jul 7, 2020 7:00 pm
Facebook Live, https://www.facebook.com/lovingmeditations/videos/275250943707644, West Harrison, NY, 10604
Pamela Sklar, Tamara Green.
Read More...
A wonderful collaboration with poetry and music presented by Loving Meditations.